Microsoft Software Licences

How do I buy a license?
Servers Direct understands the Increasingly vital role software plays in the IT environment of organisations.
The Servers Direct team are comprehensive licensing expertise, Servers Direct offers a range of Software services. These centre largely around Software Asset Management (SAM), a term that can be found on the agenda of almost every organisation. Effective investment in SAM enables clients to gain control of their software licenses, delivering transparency and ensuring compliancy, while creating potential cost savings.
We work closely with Microsoft, VMware and Symantec.
Affordable & Tailored Solutions
Microsoft Volume Licensing is available from Servers Direct. An affordable way to ensure your organisation is equipped with the latest versions of essential software. MVL delivers increased creativity and productivity whilst providing extra functionality and payment options compared to boxed retail versions. Call the Servers Direct Software Team now for friendly, expert advice on how your organisation can benefit from Microsoft Volume Licensing.
Public Sector Licensing
ServersDirect are a Microsoft Authorised Education Retailer and offer a range of software licensing solutions for academic organisations including special programmes for higher education institutions and primary / secondary schools. Other public sector organisations and government departments can chose from either OLP or OVL agreements.
If you are a small to medium sized business with 2 or more computers, you could benefit from Microsoft Open Licensing. An Open Licence agreement lasts two years, and is a more cost-effective means of purchasing Microsoft software.
How Volume Licensing works
Simply stated, volume licensing makes it easier and more affordable to run software across multiple computers and use Online Services across multiple users within an organization.
By acquiring licenses through Microsoft Volume Licensing programs, you pay only for the software license. Eliminating the physical costs of boxed software and purchasing in volume often reduces cost and provides more customized purchasing options and improved software management.
In the case of some Microsoft Volume Licensing programs, you may also purchase Software Assurance. This comprehensive maintenance ofering can help you get the most out of your software investment. It combines the latest software with phone support, partner services, training, and IT tools. You can choose Software Assurance at the time of purchase and begin using your benefits immediately for the term of your license agreement.
Keys to understanding Microsoft Volume Licensing
To choose the optimal approach for your organization, you must first understand the major characteristics of Volume Licensing policies and programs. Areas for consideration include:
The size and type of your organization.
The products that you want to license.
The way in which you want to use those products.
Microsoft tailors some of its programs to meet the needs of specific industries, such as public sector organizations like schools and universities, depending on the primary function of the organization.
For smaller organizations, the Open Programs provide a simple, cost-effective way to acquire the latest Microsoft technology.
Small Businesses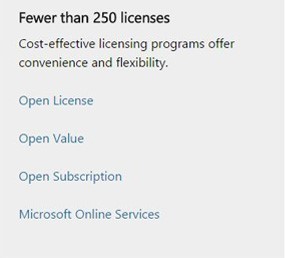 Midsize and Large Businesses