ServersDirect gives you more Service for your money.
100% customer satisfaction.
Over 3000 servers sold last year
Buying and installing a new server can look complicated and some IT companies thrive on this to make you think you're getting a lot more for your money than you actually are.
Its true they offer you an expert solution but if you read the small print, they actually supply very little else, excluding the very basics you need. They don't even install the email Exchange package or any anti-virus software in the standard service!
Comparison of BT installation Service to ServersDirect: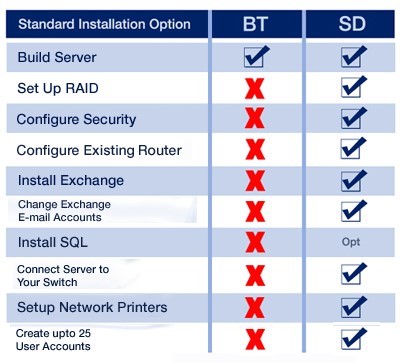 At ServersDirect we provide the complete installation service. We know that you need a total solution, no hidden costs, no missing essential settings.
We install the complete solution:
Configuring and set-up of the Server hardware
Creating your user logins and specific security requirements
Setting up your storage and creating secure file areas
Connecting network printers and sharing documents
Installing Email Exchange and creating mail accounts
Installing Antivirus and backup software
Transferring data from your old server(s)
Setting up remote file and email access
Serversdirect takes time to go through a discovery process with you. We identify all your business requirements, recommend the correct size and capacity of the server and build these into a complete finished solution.
Serversdirect enable the server to arrive ready to go and helps you connect your PC's, laptops and peripherals.
No unexpected costs.
We provide you with a simple to use installation structure. With prices starting from as little as £49 for a Server build, we allow you to choose the level of installation you want. From a basic hardware setup to a complete business installation package, we offer a range and price that helps you simplify the whole server installation service.
Call the advice line now to find out more about how we can help you design, install and support your new server.
Advice Line .....0844 412 4575