Are the emails you send legal?
Legal requirements for email footers
A briefing by OUT-LAW.COM, part of international law firm Pinsent Masons
1. Mandatory information
If your business is a private or public limited company or a Limited Liability Partnership, the Companies Act 1985 requires your letterhead, order forms and all business emails to include the following details in legible characters:
Your company registration number;
Your place of registration (e.g. Scotland or England & Wales); and
Your registered office address
This information should also appear on your company's website. Failure to comply with these requirements puts your company at risk of a fine. These duties were clarified on 1 January 2007, as a result of an amendment that was made to the Companies Act to comply with a European Directive. For avoidance of doubt, these details are not required of sole traders or standard partnerships.
2. Optional information: confidentiality notices
Some organizations add a confidentiality notice to every outgoing email. If the disclosure of the content of an email becomes the subject of a dispute, it can be argued before a court that the recipient should have known to not disclose the information. However, there is no legal authority for this and there is always a risk that a court might reject the notice as ineffective, particularly where the notice is added automatically to every outgoing email. Where such notices are used they have a better prospect of standing up in court if they appear above the body of a message.
3. Optional information: disclaimers
Disclaimers are often added to all outgoing emails but they should be written with care. What you attempt to disclaim will depend on the nature of your business and if your disclaimer is too wide it will fall down in court. Seek legal advice to maximize the effectiveness of your disclaimer.
4. Optional information: monitoring
If your organization monitors some email traffic data, your outgoing emails should say: "[Organization name] may monitor email traffic data." If your organization also monitors the content of email, you should say: "[Organization name] may monitor email traffic data and also the content of email for the purposes of [security and staff training]. "The monitoring of business email is primarily governed by the Telecommunications (Lawful Business Practice) Regulations 2000 but it is also affected by other laws including EU rules and, in the UK, the Human Rights Act 1998 and the Regulation of Investigatory Powers Act 2000. Among other things, these rules require you to give correspondents notice of the monitoring you carry out, including monitoring email traffic data. You should take legal advice on any monitoring of communications that your organization conducts. The statements above can help your organization to reduce the risk of a successful claim for unlawful monitoring of your organization's email data but you should be aware that such statements have never been tested in court and therefore any monitoring will carry some degree of risk.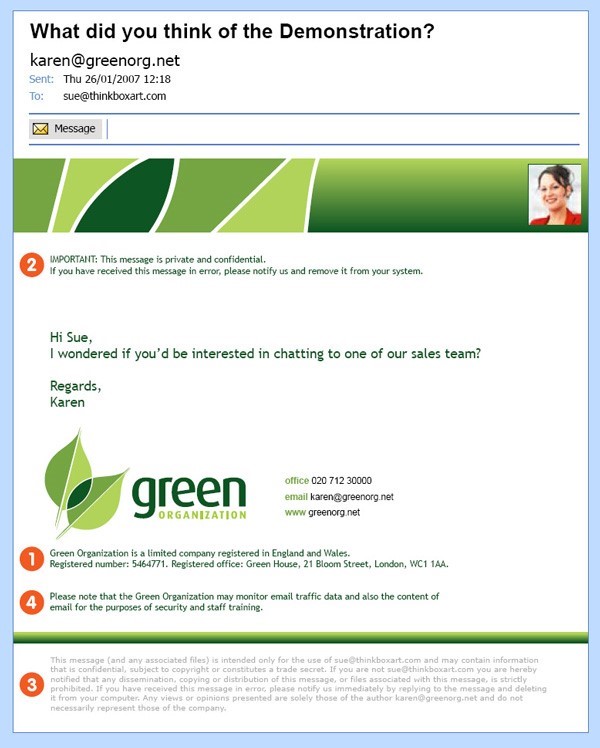 This briefing was prepared for Exclaimer in January 2007 by OUT-LAW.COM, part of international law firm Pinsent Masons. If you have any questions, email info@out-law.com.
OUT-LAW.COM is the award-winning online legal service from Pinsent Masons, a leading law firm with offices across the UK and overseas. The firm delivers solutions that enable its clients to meet their commercial objectives. It does this by having a deep understanding of their sectors and a commitment to market-leading client service. The hallmarks of Pinsent Masons' people are team working, enthusiasm and the way in which the firm puts the client at the centre of everything it does.
Company Introduction
Exclaimer is a Microsoft Gold Partner that produces software to work alongside Microsoft Exchange 2007, 2003 and 2000. Its best-selling suite of Exchange tools enable disclaiming, branding, signature, anti-spam, retention-policy enforcement, mail-store compression and regulatory compliance for corporate email, to ensure compliance to both internal requirements and external regulations.
Their software is very easy to install and because their applications centralize control over the email system for the entire enterprise they can ensure that additions and enhancements to emails appear consistently and uniformly, regardless of whether they are sent from a mobile device, the desktop or webmail.
Products
Add corporate email branding, email signatures and legal email disclaimers to your email messages. Protect your system from spam and email related viral attacks. Block, forward or auto-respond to incoming, outgoing or internal email. Works with SmartPhones, Blackberrys, PDAs, etc.
Exclaimer Signature Manager allows you to create great looking Outlook Signatures. An email signature can be used to carry your company's branding and legal disclaimers. Email signatures can even carry campaign style banner ads.
Combines all the advantages of Exclaimer Mail Utilities and Exclaimer Store Compressor in one neat package specifically designed for SBS (Small Business Server) environments. Works with SmartPhones, Blackberrys, PDAs, etc.