Why Wait?
Now is the time to upgrade to Windows Server 2012
Windows Server 2012 helps you keep your IT running smoothly so you can stay focused on running your business. Increase employee productivity, reduce the time and costs associated with IT management and help keep your business critical data safe.

Why migrate?
For example if you're running Windows Server 2003, you're running 10 year old technology. Substantial improvements have been made in those 10 years that help businesses compete better in today's marketplace.
Outdated servers can be inefficient to run and more expensive to maintain. Upgrading to Windows Server 2012 allows you to modernize and standardize your IT infrastructure and consolidate servers.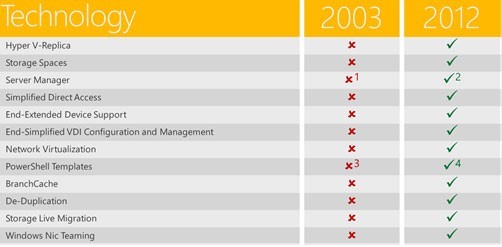 1. Included individual management consoles that were a precursor to today's management console
2. Includes unified server management console that allows you to easily do
multi-server management across all your servers
3. Only available as separate download with limited number of cmdlets
4. Included; has thousands of cmdlets
Windows Server 2012 - Edition overview
The Windows Server 2012 product line-up has been streamlined and simplified, making it easier for customers to choose the edition that is right for their needs.
Datacenter edition for highly-virtualized private cloud environments.

Standard edition for non-virtualized or lightly virtualized environments.

Essentials edition for small businesses with up to 25 users running on servers with up to two processors.

Foundation edition for small businesses with up to 15 users running on single processor servers.
Which suite is right for you?
Check which Windows Server 2012 edition offers the most relevant features and functionality for your business.
Protect your data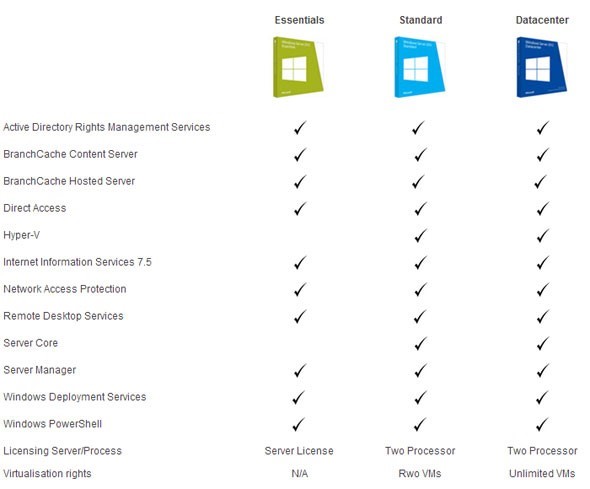 Secure your business with simplified backups and built-in disaster recovery. You can also use centralised IT management to make sure systems are up to date, and control who has access to your documents.
If you require any more information please contact one of our Servers Direct account managers on 0844 412 4570.
Servers Direct
Trident Business Park
Neptune Way
Off Leeds Road
Huddersfield
HD2 1UA