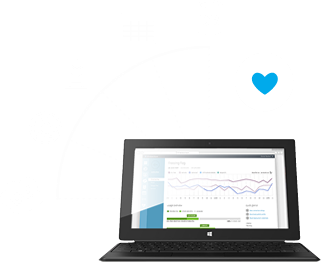 What is Azure?
Azure is an open and flexible cloud platform that enables you to quickly build, deploy and manage applications across a global network of Microsoft-managed datacenters. You can build applications using any language, tool or framework. And you can integrate your public cloud applications with your existing IT environment.
It's IaaS + PaaS
It's hybrid ready
It's open and flexible
It's always up, always on
It's economical and scalable
It's everywhere
It's about unmatched productivity
Any developer or IT professional can be productive with Azure. Azure's integrated tools, pre-built templates and managed services make it easier to build and manage enterprise, mobile, web and Internet of Things (IoT) apps faster, using skills developers and IT professionals already have and technologies they already know. Microsoft is also the only vendor positioned as a Leader in Gartner's Magic Quadrants for Cloud Infrastructure as a Service, Application Platform as a Service and Cloud Storage Services for the second consecutive year.
It's open and flexible
Azure supports the broadest selection of operating systems, programming languages, frameworks, tools, databases and devices. Run Linux and Docker containers; build apps with JavaScript, Python, .NET, PHP, Java and Node.js; build back-ends for iOS, Android and Windows devices. Azure supports the same technologies that millions of developers and IT professionals already rely on and trust.
It works with existing IT
Some cloud providers make you choose between your data centre and the cloud. Not Azure, which easily integrates with your existing IT environment through the largest network of secure private connections, hybrid database and storage solutions, and data residency and encryption features - so your assets stay right where you need them. You can even run Azure in your own data centre with Azure Stack. Azure's hybrid cloud solutions give you the best of both worlds: more IT options, less complexity and cost.
MORE ON AZURE »
What you can do with Azure
Build infrastructure
Provision Windows and Linux Virtual Machines and applications in minutes. Use the same virtual machines and management tools in Azure that you use on-premises.
Develop modern applications
Build and deploy a wide variety of modern applications for Android, iOS, and Windows that take full advantage of the cloud — including web, mobile, media and line-of-business solutions. Automatically scale up and down to meet any need.
Gain insights from data
Azure provides managed SQL and NoSQL data services and built-in support for gaining insights from your data. Leverage the full power of SQL Server in the cloud and use HDInsight to build Hadoop clusters to analyze data.
Manage identity and access
Manage user accounts, synchronize with existing on-premises directories, and get single sign on across Azure, Office 365 and hundreds of popular software-as-a-service applications including Salesforce, DocuSign, Google Apps, Box, Dropbox, and more.
---
Why Microsoft Azure?
Azure is an open and flexible platform that provides all the building blocks to quickly build, deploy, and manage cloud-based solutions. Azure offers a wide range of usage-based services across applications, compute, storage, and network. You can build applications using any language, tool, or framework on a fully automated self-service platform that enables the provisioning of scalable resources within minutes. The following are great examples of Azure-based solutions partners are providing today:
Backup Data in the Cloud
Azure provides durable cloud storage, backup, and recovery solutions for large and small data. It works with the infrastructure customers already have to cost effectively enhance existing apps and business continuity strategy.
Use for a range of applications, including file servers,
SharePoint, SQL Server, Exchange, and BizTalk Server
Rely on encrypted backups and geo-redundant global datacentres
Quickly and easily provision storage as needed
Deploy Applications within VMs
With Azure you can use your existing tools to create and quickly deploy apps without the time and cost of managing infrastructure.
Azure offers secure and flexible development, deployment and scaling options for any size application. Server applications are validated to run on Virtual Machines.
Avoid capital expense for infrastructure
Reduce IT management burden
Scale as needed
Host Websites
Grow your business helping customers move their websites to the cloud with Windows Azure
Quickly build, deploy, and manage websites on a flexible cloud platform
Instantly scale to meet fluctuations and spikes in site usage
Offer the peace of mind from hosting on a global network of Microsoft managed datacentres
---
Call our team of technical experts for more details on Microsoft Services
0844 412 4570
serversteam@serversdirect.co.uk