Are you paying over the odds for your existing office communications infrastructure?
Research suggests that implementation of a converged voice and data network in a small to medium sized business offers greatly reduced costs combined with increased productivity and a greater competitive advantage.
Avaya are industry leaders in converged Voice over IP (VoIP) solutions that combine the reliability and ease of traditional telephony systems with the applications and advantages of IP telephony solutions.
IP Office addresses basic telephony needs, leverages built-in convergence capabilities, and capitalises on robust unified applications to deliver intelligent communications to your users and customers. This small business IP phone system simplifies processes, and streamlines the information exchange within systems to create simple and effective communication experiences.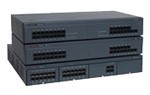 The Avaya IP Office 500 solution is designed for a small or medium office experiencing or expecting growth. It can support up to 32 users (any mix of analog, digital and/or IP phones) with Standard Edition software and is easily expandable to 272 users with Professional Edition software.
Avaya IP Office 500 also allows businesses to expand to 4 T1/PRIs and 8 expansion modules — a total capacity of 272 endpoints and 264 trunks. Standard Edition supports Embedded Voicemail for built-in voicemail/auto-attendant (no PC required) while Professional Edition supports all messaging options, including Embedded Voicemail. It provides two 10/100 Mbps switched Ethernet ports.
The benefits of an Avaya IP Office Platform:
Full-featured PBX with optional key system functionalityDelivers hundreds of telephony features
Support for wide range of terminalsAnalog, digital, IP hardphone and IP softphone, wireless (Wi-Fi), and IP DECT
Managing office devices 2 relay ports for door entry systems, heating systems, etc.
Choice of trunk interfacesFor T1/E1/PRI (single or dual), BRI, Analog Quad Loop-Start, and Analog Trunk 16 (Ground Start and Loop Start), and SIP
Local area networking Built-in dual-speed LAN ports with integrated firewall
Wide area networking Use digital leased-line services. Point-to-Point Protocol (PPP) or Frame Relay. Network Avaya messaging servers
VPN support For secure site-to-site communications or remote access using L2TP or IPSec; up to 10 tunnels supported
ConferencingBuilt-in conference bridge for 1 or 2 (IP412) 64-party conferences. (6-party on Small Office Edition)
Voice over IP Optional Voice Compression Module supports 4, 8, 16, 24 or 30 simultaneous Voice over IP sessions (for up to 128 with IP500). Used for multi-site networking over a WAN or supporting IP telephones and softphones
Proactive monitoring For remote systems via SNMP or SMTP (e-mail). CBC (Compact Business Center) application e-mails daily switch statistics. System Status Application for advanced diagnostics and reporting capabilities.
RIP-2 support For dynamic data routing